Yanks fall to Mets, lose ground to Blue Jays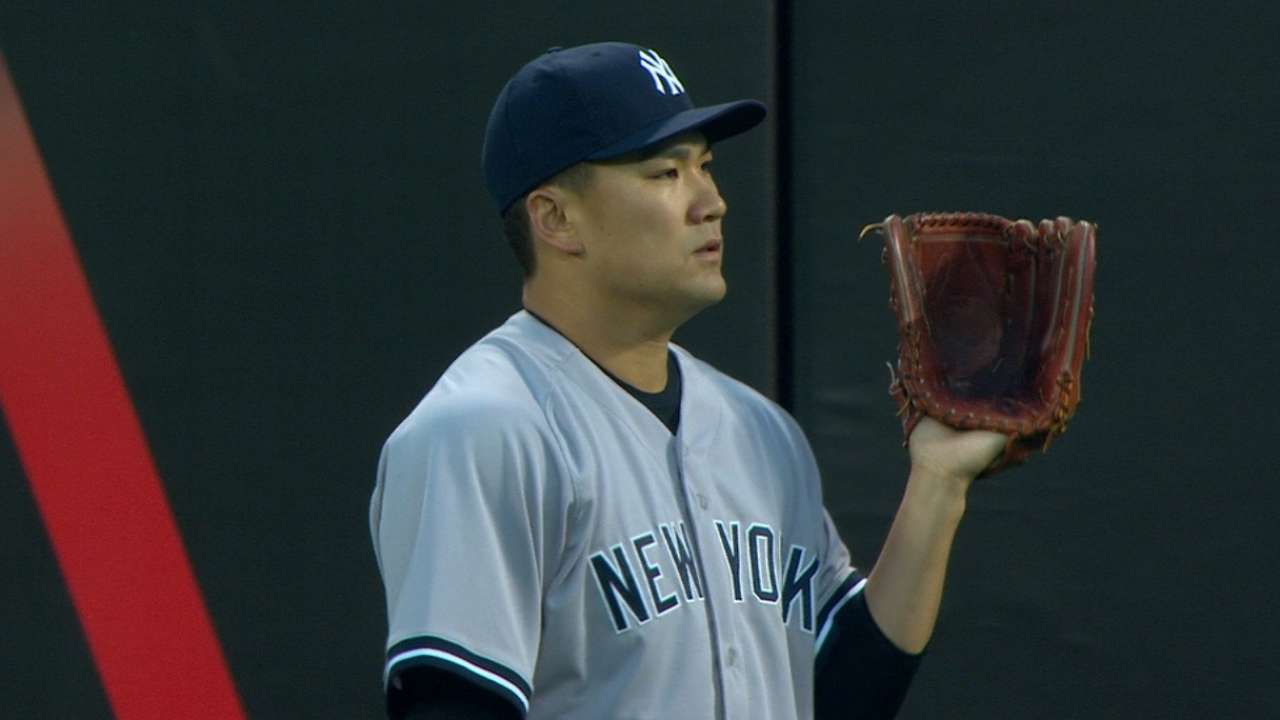 Amidst regular-season Subway Series stakes that have never been higher, the Mets quelled worries about a September slide by blasting three homers Friday in a 5-1 win over the Yankees, who lost more ground to the Blue Jays in the American League East.
Lucas Duda hit a game-tying homer in the second inning, Daniel Murphy crushed a go-ahead shot in the sixth and Juan Uribe provided some breathing room with a two-run homer in the seventh. It was enough for the Mets — who lowered their magic number to 8 — to retain an eight-game National League East lead over the Nationals with 15 to play, while the Yankees fell 4 1/2 games back of the Blue Jays.
The winner was rookie Steven Matz, who held the Yankees scoreless after a Chris Young sacrifice fly in the first. Matz outdueled Masahiro Tanaka, who allowed the first two of New York's three homers in front of 43,602, the second-largest regular-season crowd in Citi Field history. MORE
Clubhouse report
— Tanaka's evening was complete after 82 pitches, and while no decision has been made about bringing him back on Wednesday to face Toronto, Tanaka said he would be game for that assignment. This was Tanaka's second time back-to-back on four days' rest, and just the fourth time he has done it all season as the Yankees try to care for his partially torn ulnar collateral ligament.
"I understand that they had to pull me out a little bit earlier today," Tanaka said. "But, yeah, obviously if they wanted me to go in five days, the fifth day from now, I'll be ready to go."
— National League rules took away the designated hitter, but gave the Yankees a couple of late-inning bats to plug in. Jacoby Ellsbury hit for Tanaka in the seventh inning and Girardi saved Alex Rodriguez until the ninth, when he pinch-hit for Brendan Ryan and walked. Girardi said that he toyed with using A-Rod to hit for Ryan in the sixth inning, but did not because Greg Bird was at second base with first base open.
"Even though it's second base, there is an open base and you could pitch around him," Girardi said. "And then you've got to take Tanaka out and he's throwing the ball extremely well, so we decided not to."
— Chasen Shreve was a key contributor to the Yanks' brilliant bullpen in the first half, but the left-hander has run into a September swoon. Serving up Juan Uribe's two-run homer in the seventh, Shreve has surrendered six runs over his last five appearances, including three homers. Shreve has made 55 appearances but said he feels fine physically, and that fatigue is not a factor.
"It's frustrating, because I feel like I had a good year thus far, and there's no time to make it up now," Shreve said. "I've just got to do damage control and try to finish strong."
Playoff picture
The Yankees fell 4 1/2 games behind the Blue Jays in the American League East race, as Toronto defeated the Red Sox, 6-1. The Yankees lead the Astros by four for the first Wild Card spot.
Stat so?
The Yankees did not homer on Friday, ending a streak of 11 consecutive games with a homer dating to Sept. 6. That was their second-longest streak of the season (13 games from July 25-Aug. 7).
Tweet, tweet
Daniel Murphy swiped left on getting tagged out: http://t.co/cdGnEViX9j pic.twitter.com/7sJWTGJnk8

— Cut4 (@Cut4) September 19, 2015
Parting words
"To be honest, I didn't look at the scoreboard one time all night. I could care less what they do. If we want to try to catch them and win the division, we've got to play really, really well. Tonight we didn't play good. I'm not worried about where they're at. I'm just worried about us. We've got to try to even the series up tomorrow. There's really not enough time left to lose series and win one out of every three or four games. We've got to go on a roll and pick things up and start playing better tomorrow." – Brett Gardner