Red Sox could make play for Andruw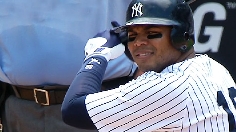 The Yankees may have some company in trying to secure Andruw Jones for their bench. The New York Daily News reported Wednesday that the Red Sox are believed to have joined New York in pursuit of the 34-year-old outfielder, and that there are multiple teams with interest.
Jones provided right-handed power for the Yankees last year, slugging 13 homers in limited playing time, with most of his 48 starts coming against left-handed hurlers. The Daily News noted that while J.D. Drew's contract has expired in Boston, neither Ryan Kalish nor Josh Reddick have a great track record against left-handed pitching.